Guldsmed Iben Rasmussen
Blå bog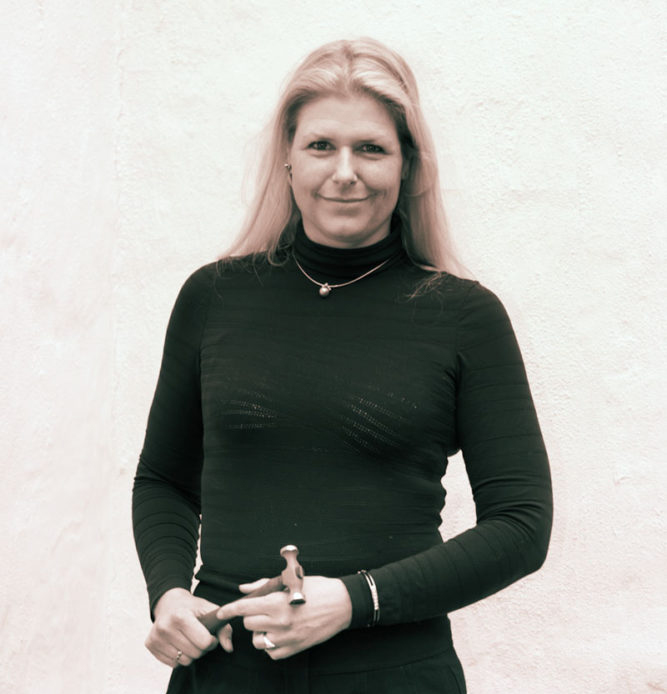 Blå bog
Drømmen, inspirationen og håndværket
Mange smykker begynder som drømmen om at eje eller give noget uforgængeligt smukt; et smykke som kun findes i een, personlig version. Siden bliver drømmen til en fælles idé, som gennem dygtigt håndværk bliver til virkelighed.
Siden 1969 har det forløb præget "Guldsmed Rasmussen". Først gennem Jørgen Rasmussen, som med en bronzemedalje til svendeprøven som sølvsmed i 1963 og to år senere en sølvmedalje som guldsmed åbnede sin værkstedsbutik i den nordlige ende af Aalborgs Vesterbro. I 1979 flyttede han sit selvdesignede arbejdsbord til Gravensgade 14.
Iben Rasmussen
I 2001 træder næste generation ind i billedet
Datteren, Iben, kom i lære i værkstedet og bestod svendeprøven som guldsmed med bronzemedalje. Hun var vokset op med sølvspåner, guldstøv og smykkestenenes ufattelige skønhed. Nu fik hun også den bedst tænkelige læremester, og i 2009 overtog hun værksted og butik i Gravensgade. Fik foden under eget bord; faderens 40 år gamle klenodie.
To generationer med mange fælles træk: Dedikationen til det ædle håndværk og det daglige ønske om at realisere drømmen om det eneste ene smykke i et formsprog præget af enkelhed, renhed og lethed.
I 1993 modtog Jørgen Rasmussen Kunsthåndværkerprisen af 1879 og havde den første af fire udstillinger på KUNSTEN i Aalborg. I 2005 blev han af Aalborg Haandværkerforening hyldet som "Årets æreshåndværker i Aalborg". Og Iben fulgte i fodsporene. I 2006 modtog hun håndværkerforeningens legat for godt håndværk. Året efter var hun på den censurerede udstilling på Dronninglund Kunstcenter, og i 2011 udstillede hun 63 af sine unikasmykker på Vendsyssel Kunstmuseum under titlen "Linjens enkelhed".
I kreationen af sine unikasmykker arbejder Iben Rasmussen tæt sammen med den, som bestiller opgaven.
"Din tanke-mit håndværk" er et udsagn med reelt og inspirerende indhold.